When you're running your own building company managing cash flow and paying contractors and suppliers on time is a priority to financial success.
But what do you do when you're still waiting for payment months after the job has been completed?
Rather than getting disgruntled, try implementing these six steps below and you'll quickly notice an increase in customers who want to pay on time.
It also means you'll have more hours in the day to quote for new jobs…happy days!
Step 1: Build a good client relationship
If a client is satisfied with your work they are much more likely to stick to the terms and conditions of your invoice. Building up a rapport with clients will mean they will recommend you to friends and family – and the value of word-of-mouth recommendations can never be underestimated.
Step 2: Think ahead
It's easy to forget when an invoice needs to be submitted to a client. Set a reminder on your laptop, or mobile device, so the invoice can be sent out as soon as you know the client is happy with the finished project. Some software packages let you install an alert so you know when the invoice has been opened via email which is always handy!
Step 3: Reference numbers
It sounds so simple, but lots of builders forget to consistently use invoice numbers when they are staging clients' payments. If you have references for every payment made you'll know exactly how much a client owes you throughout the job and when any funds needs chasing up.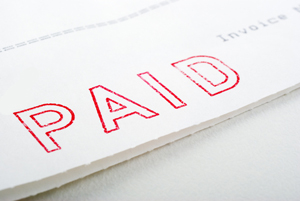 Step 4: Create a distinct invoice  
If a client has undertaken a big project you may not be the only contractor waiting to get paid. Ensure your invoice stands out from the rest by incorporating your logo into the overall design so it looks more professional. Making the content easy to follow so there isn't any confusion over the work completed will also help.
Step 5: Discuss payment terms
Think carefully about your terms of payment – asking for payment within a shorter timescale may speed things up. On average most clients will pay a few weeks after the invoice has been submitted so this needs to be taken into account. As soon as a client accepts your quote make sure you confirm your payment terms in writing to prevent any confusion further down the line.
Step 6: Don't harass any clients for payment
Always chase invoices with a phone call rather than an email which is less personable and can be easy to ignore.  A good tip is to only contact clients during working hours (early mornings and evenings should be avoided) and just one phone call a week is enough to regularly remind customers that they need to log onto their internet banking and pay you! Communicating with your client is key to keeping everyone happy and the jobs rolling in.
Do you have any tips for getting your invoices paid on time? Why not tweet them to us at @easyestimateuk.