Simple, accurate and fast building estimate and quoting software
Join over 1000 tradespeople pricing work with our quick and easy to use system.
Produce professional, accurate customer quotes.
How it will help you :

Keep track of all your leads, quotes and customers in one place

Reduce the time that you spend pricing work
Keep your customers happy by getting quotes out quicker
Automatically create quotes that win you more work
Make sure your prices are correct by using our in-built pricing database
Be more organised and make more money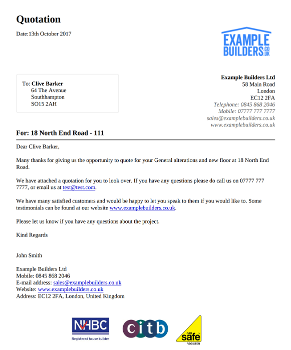 No commitments
If you decide Easy Estimate isn't for you – no problem. No commitment. Cancel online at any time.
Use Anywhere
Use the system on any internet connected device
It's easy to get started
Sign in and start pricing immediately
"Its cut down our pricing time by half, and we convert 30% more leads to paid work"

"I love the way it has the material prices in the system, it helps speed up quoting and it makes sure the job is priced correctly"
"I hate doing paperwork, but with this pricing system its become much easier and quicker, I don't even mind doing it now"
Paperwork
The system automatically produces the final quote that you give to your customer. It can also be customised with many different levels of information for the client. You add your own logo's, cover sheets and any trade association logos, then just print or email the quote.

The full estimating system is priced at £9.99 a month for each user, there are no minimum contract lengths, simply pay for what you need, when you need it. The system includes all the options that you would need to price any job including commercial, domestic, plumbing, electrics, landscaping and many others.
Start pricing jobs right now!
For only £9.99 per month per user, you don't have a lot to lose if you don't like the system, we have no minimum contracts – simply cancel if you don't like it.
Committed Support
We know if you have a problem or question, time is of the essence. There are multiple ways to get help, including an included email support ticketing system.
Software features
There are many features in our estimating software system that no other software gives you. Click the read more option below to have a look at some of them
Mission statement
Our company strives to produce the best pricing and estimating system. We always prioritise our existing customers over new business.
Paperwork and Quote
The construction estimating software can produce all the paperwork you need to give to your client, and this includes a full quotation ready to be printed or emailed to your customer.
We're so confident you'll love the system, if you sign up and don't like it within the first 28 days, just drop us an email and we'll cancel your subscription and refund your initial payment.
Building estimating software for Apple Mac
The system is based in the cloud and is accessed through a web browser, this means that the estimating software will work with Mac's as well as PCs.